Canmore is currently at a tipping point. (Part 1/?)
Despite local pushback, the mountain town continues to modernize and become more tourist centered.

Canmore's governing body rarely takes into consideration the voice of locals - Community is being traded for money.

The sense of community my friends and I grew up with has slowly dissipated; you can feel, see, and hear that Canmore is in an awkward limbo.

Multi-million dollar homes remain vacant except for the select few weeks, or even weekends of the year.

The majority of property owners who utilize Canmore as an investment do not care about sustainability - they want to milk our community for all of its worth.

The wealth gap between long-time Canmore residents and 'weekenders' is at an all time high.

Inflation and class descrepency is evident, noteworthy and discernable to the local eye.

Behind the glamourization of social media of the valley, is the removal of exclusivity of Canmore itself.

Since I've been home, I've been determined to show this contrast. It's difficult, because everything mentioned is starting to blend.

This project focuses on the aforementioned. This project was created to bring attention to the aforementioned before its too late.
This project solely focuses on the town, it's people, and the people who visit.

Canmore; a tipping point.

I'm dedicating this project to the people of the town, and everyone I grew up with. Anyone who as lived in Canmore that shares this post, tags me, and is following me will be entered in a draw to win a handmade darkroom print concerning the project.
Canmore; A Tipping Point - Part 2
"The 'heart' of Canmore is getting rid of one of the [few, if not only] affordable housing locations. "

Spring Creek has a long history with Canmore dating back to the 1920s. In the 1960s, the location served as a work camp during the building of the Trans Canada Highway.

In the early 2000s, Spring Creek was housing approximately 220 mobile homes and 250 RV sites for families and the working class.

It was one of the few places in Canmore where affordable housing was available, and remains one of Canmore's oldest neighbourhoods. Many of Canmore's most historical and hard working citizens resided in Spring Creek, that is, until the second stage of development in 2009.

Today, 1/2 of the mobile homes are torn down. There is only a small percentage of families who were able to find housing in Canmore once development reached their doorstep, quite literally.

Once the final stages of development reaches its estimated project completion year of 2030, there will be no mobile homes or RV sites left on the grounds. This means that anyone living within the aforementioned will have to relocate and uproot their life either somewhere unaffordable in Canmore, or somewhere else.

In the past 15 years, the redevelopment of Spring Creek Mountain Village has seen major changes involving site restoration, rezoning, the adding of bridges and roundabouts, commercial space, and residential.

Additionally, it is no secret that Spring Creek constantly seeks changes and acceptions from the Town's bylaws to further its redevelopment goals.

This includes creek setbacks, environmental reserve dedication, roof heights, visitor unit count and total units allowed - specifically and more recently, for the new development of 2 hotels.

Canmore currently has a total of 17 hotels, with the small population of 14,000.

By 2030, the population of Spring Creek is estimated to grow by an additional 1,800 to 2,200 people, build a total of 1,050 condo and townhouse units, three hotels with 200 rooms, and add 25,000 square feet of commercial space.
Canmore; a Tipping Point - Part 3: Interlude.

Tourism.
Canmore; A Tipping Point - Part 4
"Today, [Canmore] the small but vibrant mountain-side community which served predominantly as a tourist town, is now a highly desirable destination from homebuyers accross the county."

In September 2020 the median closing price for a single family home in Canmore was $1.27 million - a 16% year over year increase. 72 homebuyer transactions were completed within the month of September.

Despite the jobs created within The Town to build and renovate homes in Canmore, (as to cater to the continuously evolving market tastes) the high and rising cost of housing has created many challenges for creating a livable community.

As per a study prepared for The Town of Canmore in 2019, 30% of homes in Canmore are owned by non-permanent residents.

Unquestionably, this has also created challenges for rental.

The average rent for a two bedroom unit in Canmore was $1,658 in 2019, which greatly increased by 39.6% from $1,188 in 2018.

Last week, with temperatures dropping close to - 30 Celcius, campers, vans, and truck tent toppers huddled together for warmth at the back of Save On foods and Canadian Tire.

This location is known to locals as 'Vanmore'.

Due to the limited and unaffordable rental options within Canmore, many full-time workers within the valley live in their vehicles year round.

This is not a choice for some if they desire to remain in the town.

Even on the coldest days of winter, we find (upwards of) 30% of $1 million + dollar homes unoccupied by their temporary or weekend residents, while the many who contribute to Canmore's economy, and who provide stability to the tourism industry within The Town, are by definition, homeless.
Canmore; A Tipping Point - Part 5 (Interlude)

Tourism.
Canmore; A Tipping Point - Part 6
Progress is currently in the midst of being finalized for the Three Sisters Mountain Village (TSMV) community.

The 505-hectare development, which makes up almost 80 percent of the remaining developable land in Canmore, is estimated to almost DOUBLE the towns population, threaten a crucial wildlife corridor, and place Canmore into a deeper pit of un-affordable housing.

Of these many issues, one of the most important, the wildlife corridor that currently goes through town, is in jeapordy. Canmore is loved and cherished for its wilderness - its the reason many desire to reside here.

With these development plans in Three Sisters, the expansion project would push wildlife even further up the slope of the mountains, causing a blockade for wildlife movement in its entirety. In other words, Canmore's ecological integrity is threatened.

Why is it crucial? (in the words of a friend and activist @robin.pollard )

"It is one of four east-west connections in the entire 3,200km Yellowstone-to-Yukon region. It is increasingly difficult for large mammals to navigate this narrow valley due to an ever-expanding human footprint, and these proposed developments put habitat and linkage zones for wildlife in jeopardy."

"According to ecologists, plans to double Canmore population... And compromise an already compromised wildlife corridor poses a major threat to the connectivity of keystone species, such as grizzly bears and wolves"

In short form, it is important that this corridor remain intact, as it needs to be wide enough to allow animals such as grizzly bears, elk, and wolves, to move efficiently.

The TSMV development project has been discussed for decades, despite the 1992 environmental assessment survey deeming the corridor as an utter importance for wildlife traffic.

In June of 2018, the project resurfaced, and the Alberta Environment and Parks department under the NDP government stated that the TSMV proposal would cause the wildlife corridor to become too narrow.

Once again, this development project is up for debate.

On March 9th, next Tuesday, there will be a public hearing concerning the TSMV development project
Canmore; A Tipping Point - Part 7 (Interlude)
Locals are completely discernable to other locals.

The way we carry ourselves, the noticeable smiles when passing, the constant warm greetings of community.

We can discern one another from our clothing.

Canmore's mountain community is small strong and resilient - especially to the ever-changing tourism push on our town.

Walking down mainstreet on a weekday we all notice one another.

On the weekend, there's not a local in sight unless they're required to be. Every local detours mainstreet on the weekends.

A critical part of our town are local businesses; they are near accessible to our own citizens on the weekends. Nevertheless, we all acknowledge and appreciate that these businesses are so busy on the weekends due to tourism, despite not being able to utilize them ourselves.

It's funny how this town works sometimes.

These photographs were taken on the weekdays depicting our local population.
Canmore; A Tipping Point – Part 8 – in Collaboration with Grace Roxas and Adam Linnard
Grace and her family have moved 3 times within their 10 years in Canmore – each time due to the landlord /owner of the accommodation wanting to sell the home in order to capitalize on the high real estate market prices.

Her current home is a 1400 sq2 Townhouse where she lives with her husband, 4 kids and 2 dogs.

Each family member has served Canmore's community through essential jobs such as grocery stores, fast food chains, retirement homes, hospitals, general goods stores etc.

I've known Grace for 7 years - within that time she always worked 2 or more jobs. Grace's community in Canmore, particularly those within the migrant community, work within these aforementioned industries.

Without Grace, her family, and friends who maintain and uphold the Town, Canmore would fall apart.

Migrant workers within these industries are essential to tourism and Canmore itself.

The Town of Canmore has failed to act in line with this fact.

Canmore relies on migrant labour, a demographic that, by definition lacks wealth. By supporting an unaffordable housing market, we are telling the migrant demographic that this place is not for them if they can't afford to live here.

If our housing market can't support migrants locally, Canmore is perpetuating a classist and racist labour market.

If our housing market and labour market is racist, how can we describe Canmore?

I say this with a heavy heart growing up as one of the few individuals of colour privileged enough to be raised here. Canmore can never be a truly diverse community without acknowledging this issue and appropriately solving it.

A way of supporting migrant families is through non-profits such as the Canmore Community Housing Corporation (CCHC) which is dedicated to aid families to live in Canmore affordably. This program will be later discussed in the Tipping Point series.

Through this post, Grace hopes to raise awareness and increase support for the CCHC within Canmore to provide more assistance to migrant families who are essential to our community.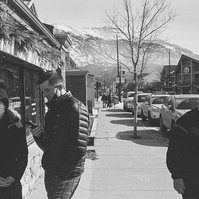 Canmore; A Tipping Point - Part 9 (Interlude)

Look Up!

This Interlude focuses on the paradox of tourism and technology. Since the beginning of the project, the reoccurring theme of technological ignorance has been noticeable.

Toursits visit and pay substantial amounts of money to visit the mountain scenery, the natural environment, the town, and to interact with the community, yet remain completely oblivious to the present moment through the distraction of technology.

The paradox is simple: paying and going out of your way to enjoy a vacation with family and loved ones, yet distracting yourself and placing barriers in between those family and loved ones through smartphones.